https://droicelabs.com
→
Страница студии/агентства
Droice Labs is a healthcare company that is represented in many countries around the world. We seek to influence health. We work with key industry players including hospitals, pharmaceutical companies, government agencies, insurance companies, and more. Thanks to this partnership, we believe that we can bring the most modern technologies
---
Город:

Москва

Компенсация:

По результатам собеседования.

Занятость:

Полная

Дата публикации:

19.07.2019

Поток:
---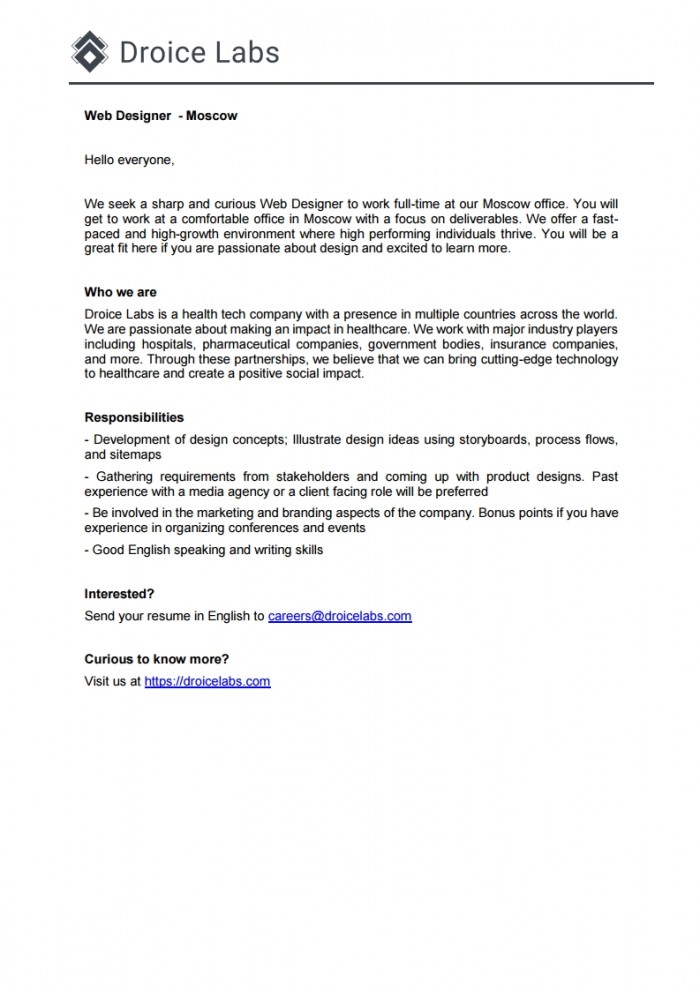 ---
Web Designer
Web Designer — Moscow
Hello everyone,
We seek a sharp and curious Web Designer to work full-time at our Moscow office. You will get to work at a comfortable office in Moscow with a focus on deliverables. We offer a fastpaced and high-growth environment where high performing individuals thrive. You will be a great fit here if you are passionate about design and excited to learn more.
Who we are:
Droice Labs is a health tech company with a presence in multiple countries across the world. We are passionate about making an impact in healthcare. We work with major industry players including hospitals, pharmaceutical companies, government bodies, insurance companies, and more. Through these partnerships, we believe that we can bring cutting-edge technology to healthcare and create a positive social impact.
Responsibilities — Development of design concepts; Illustrate design ideas using storyboards, process flows, and sitemaps — Gathering requirements from stakeholders and coming up with product designs. Past experience with a media agency or a client facing role will be preferred — Be involved in the marketing and branding aspects of the company. Bonus points if you have experience in organizing conferences and events — Good English speaking and writing skills
Interested? Send your resume in English to careers@droicelabs.com
Curious to know more? Visit us at https://droicelabs.com
---
Контакты:
---